CertLink Tips for Success
Prepare Environment
Update Safe Sender List
Add the following addresses to your email 'safe senders' list:
You will receive important information and reminders from these addresses.
Technical Requirements
CertLink has requirements for browser version, internet speed and security settings. Click HERE for details.
Browser popups must be enabled to view articles.
Design your assessment and complete the assessment from desktop or laptop computer. Tablets are not supported. 
When prompted, run the System Check shown here to ensure an optimal experience. You can also access this check from the 'Need Help' menu.

Read Articles Before Starting Questions

There are THREE places to access your articles. Be sure to read each article BEFORE proceeding to your questions. Once you click to start answering a question, you will have 10 minutes to submit your answer. Read all system messages while taking your assessment to ensure you do not miss an important warning or instruction.
The following images illustrate the various opportunities for accessing the articles.
During the Assessment Design Process


On the Assessment Details Page
Immediately Prior to Answering the Question
Answering Questions

Answer one question, or answer them all, it's up to you! Just be sure you have at least 10 minutes to answer one question.
Once you start a question, you must submit an answer. Be sure to read the article before starting article-based questions.
Viewing Images

Many questions include associated images. The image thumbnails that appear with the questions can be enlarged. 


Forgot Your Password?

CertLink users can securely retrieve their own passwords using the automated 'Forgot Your Password?' tool.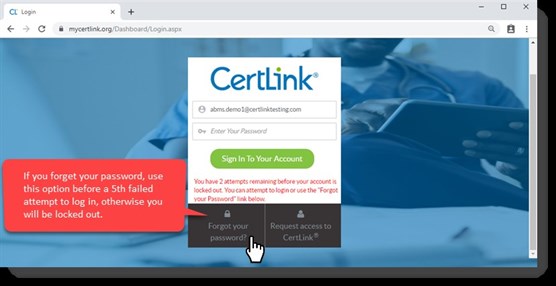 More Information

Additional resources are available to guide you through CertLink.


FAQs
VIDEOS

Click HERE for an extensive library 
of questions and answers.

Click 

HERE 

to see CertLink in action.